Welcome to

Maya Emporium - Exclusive Darjeeling Tea & Indian Art Gallery....a first of its kind in Australia....Please visit us to experience the goodness for yourself...Here's [more]
---
'Maya of Australia', has a unique mission of bringing Authentic, Pure, Organic, Single Origin, Single Estate, Darjeeling tea to discerning tea lovers in Australia.
Darjeeling tea, is a rare, coveted and exotically flavoured, is grown only in Darjeeling, situated at the foothills of the Himalayas in India and cannot be grown, manufactured or replicated anywhere else in the world. The unique agro-climatic condition of the region contributes to its distinctive flavour and aroma. However, according to the official sources, each year, around 10 million kg of teas are grown in 87 tea gardens spread over 17,500 hectares of land but over 40 million Kg teas are sold worldwide as Darjeeling.
Our endeavour is to bring to you authentic, premium quality tea produces ensuring holistic goodness- that is good for Health, Environment and Community, which, are the pillars of sustainable development.
Did you know, women, who form majority of the workforce in this tea producing ecosystem, play a significant role in the sustainability of the tea industry. This ethically sourced, carefully crafted tea is more of an art. The sight of a mother (a tea-picker) holding a 'tea-leaf' while at the same time carrying her child in her pouch is a sight- that is quite common. And that, in a way exemplifies the nature/nurture bond. Thus, through the 'mother and child' image on our products, we pay our respect to all those women working in the tea gardens while nurturing both their human child as well as the industry. It is in their nature to nurture and that help produce the best tea (both in terms of flavour and aroma) in the world.

Please
Contact Us
for
collaborating

with us
or
stocking our teas
or if you have any
general enquiries or for corporate orders
?
---
Fresh from the pristine lap of the Indian Himalayas...
Nurtured with care...
Ensuring the fine quality
For the finer moments,
refined taste,
the joy of pure & premium
With You Forever

Maya of Australia-Organic Darjeeling Tea
---
There was a time when drinking tea was a
ritual
, that strengthened
bonds
, 
brought
friends
&
families
together, stirred
intellectual
discussions, incited
romanticism
&
reinvigorated
many.... 
...so
PURE
&
AUTHENTIC
...
Straight from
Darjeeling
; Fresh from the foothills of the
Indian Himalayas
...
...Maya of Australia® Organic Darjeeling Tea...
...Reviving the nostalgia of the bygone era...
---
While travelling or on the go, 
in the office, 
or a quick sip to follow....
Our Maya of Australia

®

 organic Darjeeling tea bags LAUNCHED! 
100% pure, premium, organic Darjeeling tea is now there for you 
not only while you relax and ponder but also on the go...!
 Here's
more
about our
Darjeeling Tea Bags
---
[Photo Gallery] [Video Gallery] 

#'Maya of Australia® is a registered trademark in Australia [more]. 

#'Maya of Australia® is registered with the Tea Board of India [more].    
#'Maya of Australia® reached the 52nd Asian Development Bank (ADB) Annual Meeting (held from 1-5 May 2019) in Fiji! [more] 

#We are delighted to have partnered with the iconic Makaibari Tea Estate (estd. in 1859), to directly source our Pure and Premium Organic, Biodynamic, Darjeeling teas for tea-lovers in Australia! Teas from this estate are sipped in the Buckingham Palace; served at the Rashtrapati Bhavan (official residence of the President of India); cherished by celebrities from around the world....

# Did you know, our Pure & Premium Organic Darjeeling Teas, are packed at source (in India) at a high quality FSSC 22000 Certified packaging centre. The FSSC 22000 certificate is a global certification that proves that the organizations food safety management system is in compliance with the Scheme requirements. Globally, there are just 21019 (as on Sep 2019) organisations spread across 154 countries that has been issued this highly sought after certification.
#'Maya of Australia® Darjeeling Tea Tasting from the Incredible India (Ministry of Tourism, Government of India) stand at Luxperience 2019, held at International Convention Centre (ICC), Sydney. Luxperience is a global business exchange and the only luxury travel trade event celebrating the unique cultures and landscapes of Australia and the South Pacific. More [here]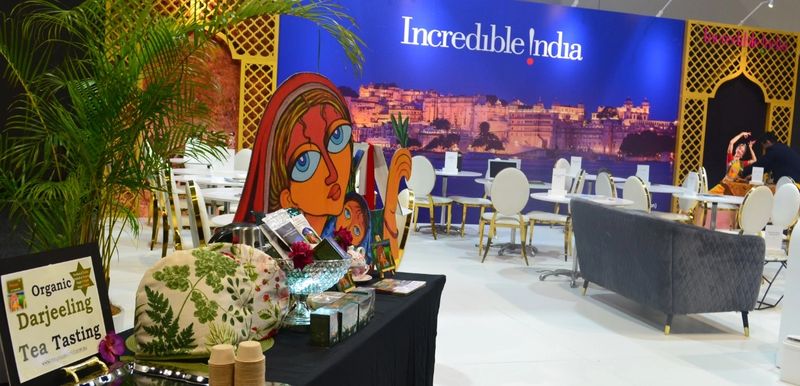 ---
Maya Tea Time Chat
# 
Tea, Tiger & Tiger Hills @ Darjeeling [more]
# 
From the land of Howrah bridge to the land of Harbour bridge: A first-hand experience of establishing tea trade relations 
[
more
]
# 
ANZAC Day And The Darjeeling Connection: Lest We Forget! 
[
more
]
# 
Goodness is global. Let's talk business! 
[
more
]